Although newer to the game then the perennial power houses of Rawlings and Wilson, Marucci makes a serious push for the top shelf of any glove collection. In that realm they produce a Founders' Series glove line that uses premium kip leather and a posh Pittard's sheep hand lining. The Founders' series come in a number of patterns and a number of MLB players use these gloves day in and day out. Below, we take a closer look in our Marucci Founders' Series Glove reviews.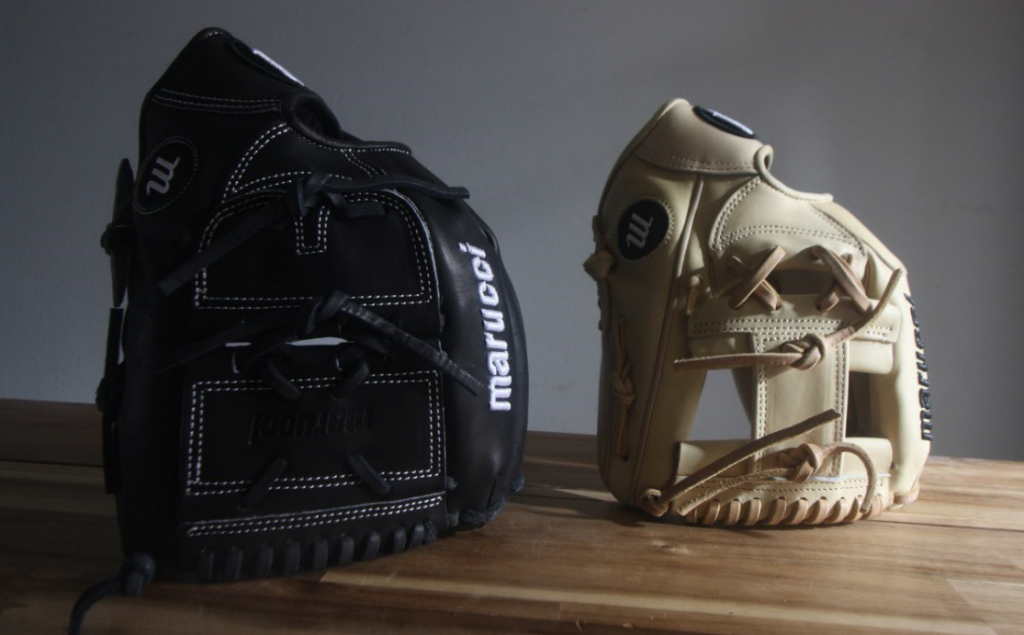 Marucci Founders' Series Review Sources
The two most helpful sources we found when researching Marucci Founders' Series of gloves was the the Marucci site directly and the product catalog found on closeoutbats.com. There you will find up to date pricing and color options for the Founders' Series gloves. As well, on each specific product page closeoutbats offers a decent video and overview of each glove. We referred to them while writing this overview.
Marucci Founders' Series General Construction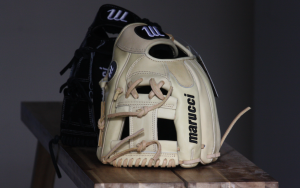 The Founders' Series from Marucci are the best gloves Marucci makes. In comparison to the rest in the industry, you could argue they are as good as any glove on the market. Founders' Series gloves use soft kip leather for the outer shell and a Pittard's sheep skin for the inner hand lining. They also use 100% wool on the wrist slot. These are all traits also found on the Rawlings Pro Preferred line of gloves.
The color sequences are rather simple. But, in classic Marucci fashion, they look expensive. They use a range of base leather colors called Gumbo, Mesa, Black, Toffee and Camel. In some gloves they only offer one color and in others all of them.
Marucci Founders' Series General Recommendations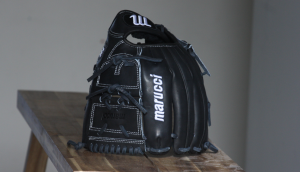 As a overarching recommendation, the Founders' Series gloves are reserved only for elite players. Or, we should say, those who think they need the best type of glove to be elite. Although not as recognizable as the Rawlings Heart of the Hide and Pro Preferred, or the Wilson A2K and A2000, the Founders' Series is a top end glove made by a very well respected company.
The glove line comes in enough sizes to be broadly recommendable too. Expect, for example, a couple 11.5-inch infield glove options, two 12-inch pitcher options and a both a 33.5 and 35 inch catcher's mitt. Throw in an outfield specific pattern as well as a shorty 2 bag glove, a 1st baseman's glove and a single post 3rd base mitt and you've rounded out the series with an option for everyone.
All that taken together, we highly recommend the Founders' Series of gloves for dead serious baseball players looking for great glove that is at least a little bit off the beaten path.
WebPosition
Marucci Founders' Series Glove Options

Size (inches)
11.25
I-Web
2nd
11.5
I-Web
2nd/SS
11.5
T-Web
2nd/SS
11.75
Single Post
SS/3rd
12
Two Piece
Pitcher
12
T-Web
Pitcher
12.75
H-Web
Outfield
13
First Base
1st
33.5
Two-Piece
Catcher
35
Two-Piece
Catcher
Marucci Founders' Series Model Options
11.25 I-Web Founders' Series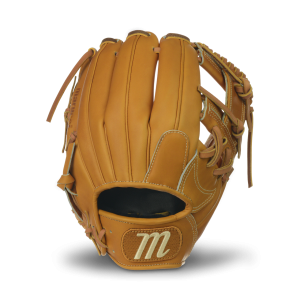 This 11.25-inch I-Web infield glove comes in four colors: Gumbo, Mesa, Toffee and Camel. It has all the great features of the Founders' Series of gloves and is made for the 2nd baseman.
11.5 I-Web Founders' Series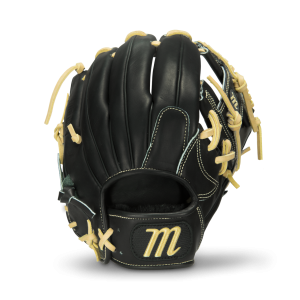 As a very traditionally made 11.5 inch I-web, this middle infield glove comes in either Gumbo or Camel colors. It is, we think, the best looking glove in the entire line.
11.5 T-Web Founders' Series
Like the other 11.5-inch middle infield glove, this one uses a T-Web with pro lacing for a little more ball hiding. Might work well for the Pitcher/SS combo player.
11.75 Singe Post Founders' Series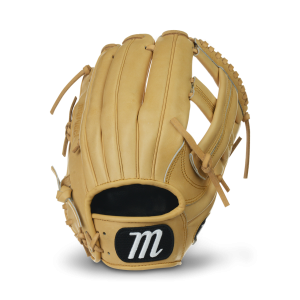 A traditional 3rd base pattern, the 11.75-inch single post Marucci Founders Series' glove is a beauty. It, like the others on here, comes with the soft kip leather outer shell and a fine lining in Pittard's sheep skin.
12.75-inch H-Web Founders' Series
A Pro H-Web (Sometimes know as the Dual post) on a 12.75 inch glove is just what the outfield ordered. This glove is one of only three in the entire line to come in four colors. They are: Black, Camel, Gumbo and Mesa.
12-inch Two Piece Founders' Series
One of two pitcher's gloves in the Founders' Series is a two piece web 12-inch mitt. Smooth lining on the inside makes for some good work on the bump. It only comes in black as pictured above.
12-inch T-Web Founders' Series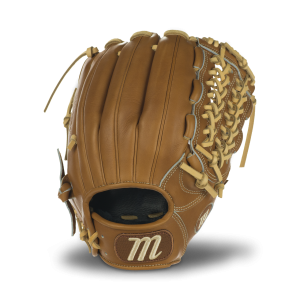 This 12-inch T-web is the other pitchers' glove in the Founders' Series line. It comes in three colors and uses a T-Web with pro lace, much like the 11.5 inch glove above. This one, however, is very pitcher specific and can hide the ball well.
13-inch First Baseman's Mitt
A dual post look on an all black glove makes for an interesting look. You can also get this first baseman's glove in camel too.
33.5-inch Two-Piece Catcher's Glove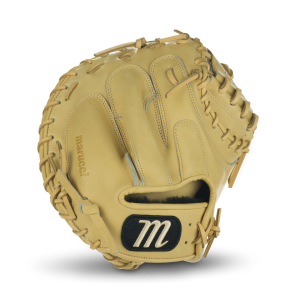 At the smaller size of the elite spectrum of Catcher's glove, Marucci makes a Founders' Series glove in a 33.5 inch. Remember, the 33.5 measures the entire circumference of the glove. This glove, like the one below, only comes in a camel color.
35-inch Two Piece Catcher's Glove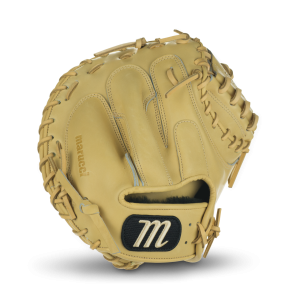 Built just like the 33.5-inch model, this two piece web on a catcher's glove also comes in a monster 35-inch version. You could catch heat all day with this bad boy. The glove needs nothing short of a Mack truck to get broken in.